Charles (Chuck) Ferry
Chief Executive Officer
Mr. Ferry has over 35 years of military and private-sector leadership experience. Prior to joining Duos Technologies, He was the CEO for APR Energy from 2018 to 2020 and COO/President from 2016 to 2018 leading a global fast-track power company with P&L responsibility for $325 million in annual revenue, 800 employees and 17 globally dispersed power plants. Mr. Ferry was General Manager/VP at ARMA Global Corporation from 2010 to 2016, which he helped grow from 80 employees and $20 million in annual revenues to 1,200 employees and $200 million in annual revenues. Previously he was a Business Developer and Operations Manager with Lockheed-Martin. He served 26 years on active duty in the U.S. Army leading Infantry, Ranger, and Special Operations Units to include 48 months of combat in Somalia, Afghanistan, and Iraq. In 1993, while second-in-command of a Rifle Company in the battle of Blackhawk Down in Somalia, he earned a Bronze Star Medal for Valor. In 2007, while commanding a Rifle Battalion, he earned a Silver Star Medal for valorous actions in Ramadi, Iraq. Mr. Ferry has an undergraduate degree from Brigham Young University in Political Science and is a graduate of the U.S. Army Command and General Staff College.
Wm. Scott Carns
Chief Commercial Officer
Mr. Carns is an original founding employee of Duos Technologies and has spent over 20 years with the organization in a variety of roles. In this current position, he is responsible for the development and execution of Duos' growth strategy and expansion. His management and capabilities provide leadership and direction to the entire organization. Mr. Carns has extensive experience in the information technology industry. He works with Duostech's major clients to develop and create solutions to meet their operational challenges. He is a co-inventor of the company's Train Rider Detection System developed for U.S. Customs & Border Protection which is the predecessor of the Railcar Inspection Portal (RIP) and in use at many Class 1 Freight Railroads today. Prior to joining Duostech, Mr. Carns worked as the Information Technologies Coordinator for Environmental Capital Holdings, Inc. and the owner and President of Software Solutions Group, Inc. He served in the United States Army as a Military Police Officer and attended Kansas State University. He has been married for over 26 years and is the proud father of four daughters.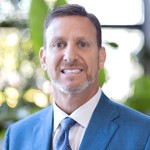 Ben Eiser
Chief Operating Officer
Mr. Eiser has over 27 years of active duty military service and private-sector leadership, Project and IT Management experience. Prior to joining Duos Technologies, He was the Vice President for Global Projects for APR Energy from 2016 to 2020 leading a Project Management Team for global fast-track power, responsible for the installation and demobilization of Temporary Power Plants, synchronization and coordination for the deployment of Personnel and Materials, ensuring that all projects were completed on-time and under budget. The APR PMO Team was able to deliver 17 power plants faster than ever completed in the company's history while becoming profitable; and implementing process and procedures to ensure mission success. Mr. Eiser was the Director of Projects for ARMA Global where he was the operations officer for a large, complex IT program in US Special Operations Command. He supervised hiring over 300 people across six different locations in just 60 days. He then provided the leadership and management to deliver more than 50 complex projects with a very demanding customer. He served 21 years on active duty in the U.S. Army leading Infantry (Light, Airborne & Mechanized), and Ranger Units to include over 48 months of combat in Afghanistan (x4), and Iraq (x3). Mr. Eiser has an undergraduate degree from Illinois State University in Industrial Technology Construction and earned his MBA while still serving his Country.
Adrian Goldfarb
Chief Financial Officer
Mr. Goldfarb has over 40 years of business experience in technology companies including over 12-years as CFO of public companies. In 2012, he was appointed as President and CFO of Information Systems Associates, Inc., which merged with Duos Technologies, Inc in 2015 upon which he agreed to continue serving the merged company as CFO and Director. Mr. Goldfarb managed the company's listing on the Nasdaq Capital Market in 2020. Prior to joining Duos, Mr. Goldfarb served as CFO for Ecosphere Technologies, overseeing growth from $0 to $24 million and profitability. Mr. Goldfarb was also Managing Director of WSI Europe, a division of the Weather Channel from 1998 until 2002. From 2002 to 2007, Mr. Goldfarb served as interim-CFO for MOWIS GmbH, a Weather Technology Media start-up company which was successfully sold to a large European media group. Mr. Goldfarb has served as a Director of GelStat Corp since 2008. Mr. Goldfarb's extensive business and financial experience includes10-years at a subsidiary of Fujitsu where he served Director of Operations for a new software venture. Mr. Goldfarb started his formal career at IBM and was given responsibility for an account team focused on Latin America and Southeast Asia. He was awarded three "100% Clubs" for his contributions.
Mr. Goldfarb did his initial accounting training in London and graduated "cum laude" with a business degree specializing in Finance from Rutgers University, Newark, NJ. Mr. Goldfarb also has more than 20 years' experience in financial derivatives including model development for valuation of complex financial instruments and has served as a Consultant for small companies dealing with restructuring issues.
Connie Weeks
Chief Accounting Officer
Ms. Weeks has over 40 years of accounting experience and is responsible for overseeing and managing the day to day accounting and financial reporting, internal controls, and cash management. She has been a key member of the Duos team for 35 years, progressing from an assistant to the staff accountant and subsequently being promoted to roles with increasingly more responsibility including serving as Vice President of Finance and Corporate Controller. In 2015, when the Company became public, Ms. Weeks continued to serve as VP of Finance, overseeing the Audit process and interfacing with PCAOB auditors, managing the audit process. Ms. Weeks currently holds the position of Chief Accounting Officer as well Executive Vice President for Duos. As the Company's most senior female executive, Ms. Weeks is actively engaged with management and provides guidance on diversity matters and has also taken courses in Human Resources. Ms. Weeks attended Florida State College of Jacksonville where she majored in Accounting.