Duos Technologies Group Appoints Power and Logistics Industry Executive Christopher King as Chief Commercial Officer
JACKSONVILLE, Fla., Sept. 06, 2023 (GLOBE NEWSWIRE) -- Duos Technologies Group, Inc. ("Duos" or the "Company") (Nasdaq: DUOT), through its operating subsidiary Duos Technologies, Inc., a provider of machine vision and artificial intelligence that analyzes fast moving vehicles, today announced the appointment of Christopher King, energy and logistics industry veteran, as its new Chief Commercial Officer ("CCO"), effective August 30, 2023.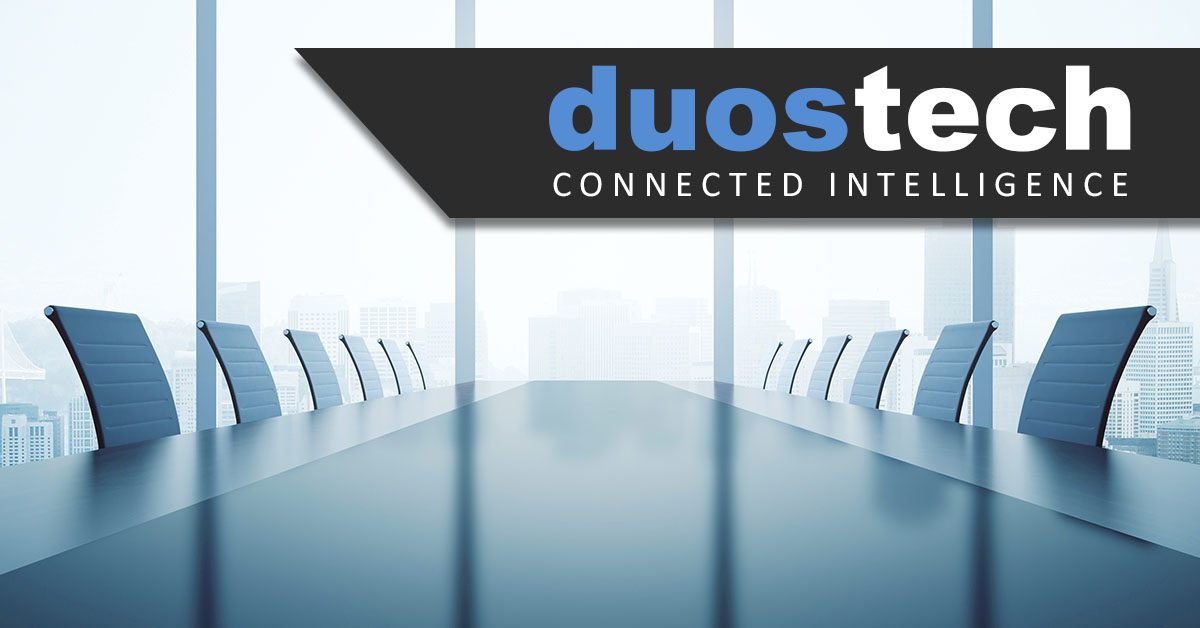 Mr. King joins Duos with over 20 years of operational and commercial leadership experience within the energy and supply chain sectors. Prior to joining Duos, he served in a series of progressive management roles within APR Energy ("APR"), a global fast track power company. During Mr. King's time at APR, his responsibilities included: leading all power plant operations, which consisted of 16 sites around the world and over 500 employees; managing acquisition integrations of over $300 million in new projects; maintaining full P&L accountability for all operations; and building and heading up a team that closed over $1 billion in new revenue, asset sales, and contract extensions. Prior to his time at APR, Mr. King held several operational leadership roles at CEVA Logistics, including a role as Lean Six Sigma Leader in charge of designing and executing continuous improvement projects for CEVA operations across the world.
"On behalf of the Duos management team and Board, I would like to welcome Mr. King to our organization," said Duos Chief Executive Officer Chuck Ferry. "I had the opportunity to work alongside Chris at APR Energy, so I'm well aware of his commercial contract knowledge and leadership abilities. His experience and extensive know-how make him a perfect fit for the CCO role, and he'll be able to make an immediate impact on our commercial and technical delivery in support of current and prospective customers. Chris will be focused on building an intensified growth strategy and strengthening our technical strategic partners as we continue to expand on our offerings and move a higher percentage of our business to our recurring subscription model."
To stay up to date on the Company's most recent developments or to learn more about the Duos story and its revolutionary technology platforms, be sure to follow here or sign up for email alerts here. For more information please contact DUOT@duostech.com or visit the Company's website and social media channels: Website, LinkedIn, Twitter.
About Duos Technologies Group, Inc.
Duos Technologies Group, Inc. (Nasdaq: DUOT), based in Jacksonville, Florida, through its wholly owned subsidiary, Duos Technologies, Inc., designs, develops, deploys and operates intelligent vision based technology solutions supporting rail, logistics, intermodal and government customers that streamline operations, improve safety and reduce costs. The Company provides cutting edge solutions that automate the mechanical and security inspection of fast-moving trains, trucks and automobiles through a broad range of proprietary hardware, software, information technology and artificial intelligence. For more information, visit www.duostech.com.
Forward- Looking Statements
This news release includes forward-looking statements within the meaning of Section 27A of the Securities Act of 1933, as amended, and Section 21E of the Securities Exchange Act of 1934, as amended, regarding, among other things our plans, strategies and prospects -- both business and financial. Although we believe that our plans, intentions and expectations reflected in or suggested by these forward-looking statements are reasonable, we cannot assure you that we will achieve or realize these plans, intentions or expectations. Forward-looking statements are inherently subject to risks, uncertainties and assumptions. Many of the forward-looking statements contained in this news release may be identified by the use of forward-looking words such as "believe," "expect," "anticipate," "should," "planned," "will," "may," "intend," "estimated," and "potential," among others. Important factors that could cause actual results to differ materially from the forward-looking statements we make in this news release include market conditions and those set forth in reports or documents that we file from time to time with the United States Securities and Exchange Commission. We do not undertake or accept any obligation or undertaking to release publicly any updates or revisions to any forward-looking statements to reflect any change in our expectations or any change in events, conditions or circumstances on which any such statement is based, except as required by law. All forward-looking statements attributable to Duos Technologies Group, Inc. or a person acting on its behalf are expressly qualified in their entirety by this cautionary language.
A photo accompanying this announcement is available at https://www.globenewswire.com/NewsRoom/AttachmentNg/2268873a-a27a-4bfd-b339-8cc528d884a6 

CONTACT:
Corporate
Fei Kwong, Director, Corporate Communications
Duos Technologies Group, Inc. (Nasdaq: DUOT)
904-652-1625
fk@duostech.com

Investor Relations
Matt Glover or Tom Colton
Gateway Group
949-574-3860
DUOT@gateway-grp.com

Source: Duos Technologies Group, Inc

Released September 6, 2023