Duos Technologies to Present at Railway Interchange 2023 Conference on October 3, 2023
Presentation Explores the Synergy of AI, Rail Technology, and Human Expertise in the Rail Industry
JACKSONVILLE, Fla., Sept. 27, 2023 (GLOBE NEWSWIRE) -- Duos Technologies Group, Inc. ("Duos" or the "Company") (Nasdaq: DUOT), through its operating subsidiary Duos Technologies, Inc., a provider of machine vision and artificial intelligence that analyzes fast moving vehicles, today announced that the Company's Chief Executive Officer, Chuck Ferry, will be presenting "Technology and Human Capital – Not a Zero-Sum Game" at Railway Interchange 2023 in Indianapolis, Indiana on October 3, 2023.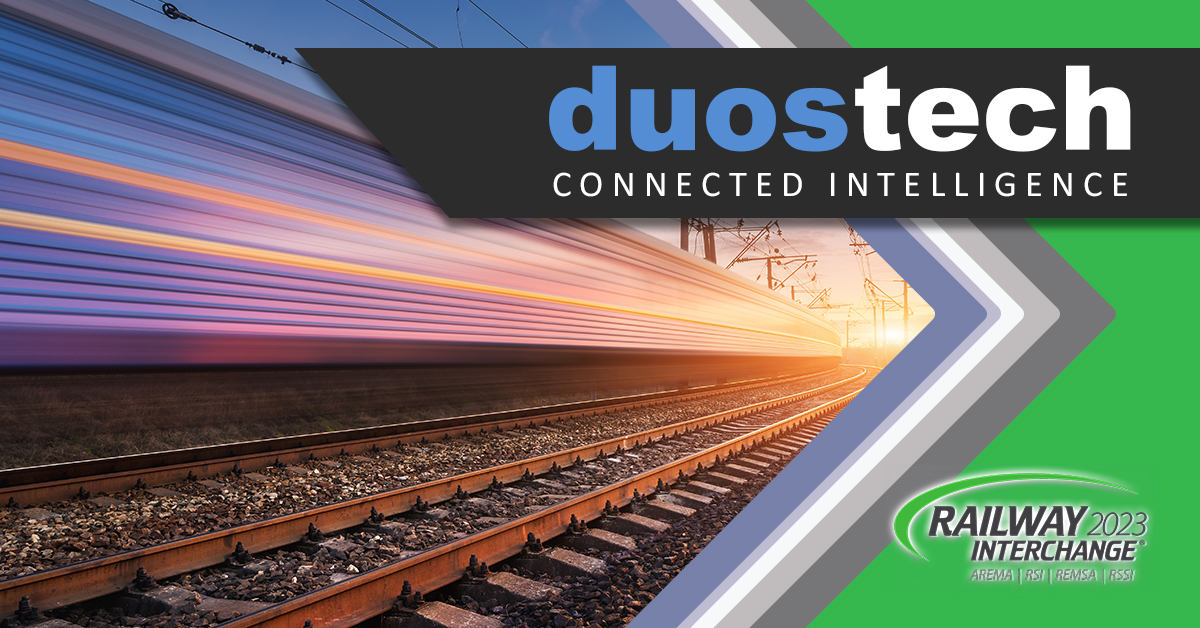 In the public eye, there's often a perception that the rapid adoption of automation and advanced technologies threatens jobs and the human workforce. Mr. Ferry's presentation seeks to challenge this conventional view. Rather than seeing technology and human capital as opposing forces, he will explore how they can be synergized to create new opportunities and further elevate safety and service standards within the rail industry.
Mr. Ferry will focus specifically on Duos' advanced technologies and the pivotal role that human Mechanical Inspectors play as rail experts that together are developing AI models that adhere to the strict FRA and AAR inspection rules and regulations.
Event Details
Date: October 3, 2023
Time: 10:45 AM - 11:30 AM ET
Location: Indiana Convention Center, Meeting Room 103
"At Duos, we firmly believe in the power of innovation to not only improve safety and efficiency but also to enhance the role of human expertise within the rail industry," said Mr. Ferry. "Our goal is to show that technology and humans are not adversaries but collaborators. We aim to inspire a fresh perspective, emphasizing that automation can lead to job creation and even higher safety industry standards and network optimization. We believe that together we can build a future where rail safety and service can be enhanced by harnessing the full potential of both technology and human knowledge."
Duos invites all industry stakeholders and enthusiasts to join this educational session and be part of a transformative dialogue. Discover how technology and human capital can collaborate to not only preserve jobs but also enhance safety, service, and compliance in the rail sector. If you would like to attend the conference, please register here.
To stay up to date on the Company's most recent developments or to learn more about the Duos story and its revolutionary technology platforms, be sure to follow here or sign up for email alerts here. For more information please contact DUOT@duostech.com or visit the Company's website and social media channels: Website, LinkedIn, Twitter.
About Duos Technologies Group, Inc.
Duos Technologies Group, Inc. (Nasdaq: DUOT), based in Jacksonville, Florida, through its wholly owned subsidiary, Duos Technologies, Inc., designs, develops, deploys and operates intelligent vision based technology solutions supporting rail, logistics, intermodal and government customers that streamline operations, improve safety and reduce costs. The Company provides cutting edge solutions that automate the mechanical and security inspection of fast-moving trains, trucks and automobiles through a broad range of proprietary hardware, software, information technology and artificial intelligence. For more information, visit www.duostech.com.
About Railway Interchange
With the primary goal of bringing rail industry professionals together in a way that informs, inspires, and promotes the global rail marketplace – Railway Interchange is the largest railway exhibition and technical conference in North America. Attended by 8,500+ industry professionals from around the globe, this massive event is held every two years in major U.S. cities.
Forward- Looking Statements
This news release includes forward-looking statements within the meaning of Section 27A of the Securities Act of 1933, as amended, and Section 21E of the Securities Exchange Act of 1934, as amended, regarding, among other things our plans, strategies and prospects -- both business and financial. Although we believe that our plans, intentions and expectations reflected in or suggested by these forward-looking statements are reasonable, we cannot assure you that we will achieve or realize these plans, intentions or expectations. Forward-looking statements are inherently subject to risks, uncertainties and assumptions. Many of the forward-looking statements contained in this news release may be identified by the use of forward-looking words such as "believe," "expect," "anticipate," "should," "planned," "will," "may," "intend," "estimated," and "potential," among others. Important factors that could cause actual results to differ materially from the forward-looking statements we make in this news release include market conditions and those set forth in reports or documents that we file from time to time with the United States Securities and Exchange Commission. We do not undertake or accept any obligation or undertaking to release publicly any updates or revisions to any forward-looking statements to reflect any change in our expectations or any change in events, conditions or circumstances on which any such statement is based, except as required by law. All forward-looking statements attributable to Duos Technologies Group, Inc. or a person acting on its behalf are expressly qualified in their entirety by this cautionary language.
A photo accompanying this announcement is available at: 
https://www.globenewswire.com/NewsRoom/AttachmentNg/dd087eaf-b07b-45ef-98c3-a5a547200325

Contacts
Corporate
Fei Kwong, Director, Corporate Communications
Duos Technologies Group, Inc. (Nasdaq: DUOT)
904-652-1625
fk@duostech.com

Investor Relations
Matt Glover or Tom Colton
Gateway Investor Relations
949-574-3860
DUOT@gateway-grp.com

Source: Duos Technologies Group, Inc

Released September 27, 2023